Northwest
Oregon
Chestnut Acres Farm
PO Box 1142, Coos Bay, OR 97420
jenohn@charter.net | 541-269-5862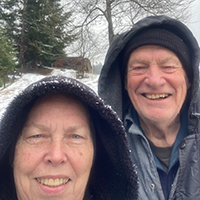 We (John & Jennifer Shank) planted our first chestnut in about 1982. It took 12 years and several dead trees before we got any nuts. We found a local pioneer grove of American chestnut where we have harvested nuts and saplings. As a family farm, we've been selling nuts and seedling trees for about five years. All work has been done in house by hand, but with production increasing, we're starting to look at sorting and processing equipment. Most of our land is too hilly for mechanical chestnut collection.
Ladd Hill Orchards
15500 SW Roberts Road
Sherwood, OR 97140
503-625-1298
Sleepy Hollow Tree Farm
17000 SW Oldsville Road
McMinnville, OR 97128
503-421-5303
Rio Rogue Farms LLC
200 Quail Lane
Grants Pass, OR 97526
541-787-0952
West Coast Chestnut
40350 Queener Drive
Scio, OR 97374
503-779-8979
The Orange House Farm
95775 Howard Lane
Junction City, OR 97448
916-709-8700
Chestnut Acres Farm
93577 Green Acres Lane
Coos Bay, OR 97420
541-269-5862
Washington
Colossal Orchards, Inc.
655 Selah Heights Rd.
Selah, WA 98942
509-697-4160
Dungeness Chestnuts
207 W. Spruce Street
Sequim, WA 98382
360-207-4536
Shady Grove
183 Shady Grove Road
Onalaska, WA 98570
360-701-9932
Trails End Chestnuts
5998 Rd M.5 SE
Moses Lake, WA 98837
509-765-3922
Northwest Chestnuts
9037 83rd Avenue SE
Olympia, WA 98513
206-427-1058
California
Central Valley
DeKleine Orchards
1022 San Adriano
San Luis Obispo, CA 93405
805-801-9874
Northern California
Harrison's California Chestnuts
796 Keifer Avenue, Gridley, CA 95948
californiachestnuts.com | support@californiachestnuts.com | 530-846-5707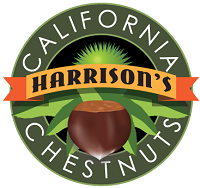 Harrison's California Chestnuts in Gridley, California is a family owned and operated farm. Our ten acre chestnut orchard is located in the heart of the Feather River basin. Each September we anxiously await the chestnut harvest, a time of work and reward. We take pride in our stewardship of the orchard and labor to harvest, to process, to sort and to ship fresh quality chestnuts. We sell fresh chestnuts wholesale and retail. To learn more about our orchard and to purchase fresh chestnuts visit our website.
Pomar das Castanhas
1009 Tim Bell Road, Waterford, CA 95386
pomardascastanhas.com | info@pomardascastanhas.com | 209-874-3237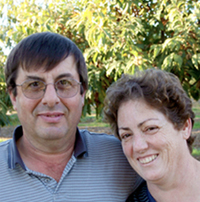 Pomar Das Castanhas is a chestnut orchard located in Waterford, California. For those of you curious as to what Pomar Das Castanhas means, it translates to Chestnut Orchard in Portuguese. Started a few years ago by Serafim (Sam) and Maria (Zita) Amaral, the goal of the orchard is to offer quality chestnuts to those who enjoy the nut, while providing excellent service. We also travel all over California, selling them at Portuguese Festas and other markets. To find out where we'll be next, follow us on Facebook!
We pick our chestnuts on a daily basis through-out chestnut season, so that we can bring them to you as fresh as possible! This allows our chestnuts to ripen naturally, making them sweet and delicious. We take great care to keep our chestnuts great, and we hope that you enjoy them!
Winters Chestnuts, Kats Ranch LLC
PO Box 928, Winters, CA 95694
winterschestnuts@gmail.com | 925-352-5027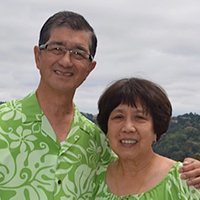 Winters Chestnuts, KATS Ranch, LLC is a family-owned business located in Winters, California. Weylin and Rose Eng retired from their professions in Optometry and Education and started farming in 2004. They have operated their 18 acres of chestnut trees since 2008. Their trees were planted in the late 1990's under the supervision of the late Professor Kay Ryugo from UC Davis. Their chestnuts are sold to markets in the Sacramento, San Francisco, and the surrounding Bay Area.
James and Emalyn Nave
8421 Rivergreen Drive
Elverta, CA 95626
916-992-9206
Southwest
Oklahoma
An Oklahoma Chestnut
910518 Oak Bend Trail, Chandler, OK 74834
sflranchok@yahoo.com | 405-328-0186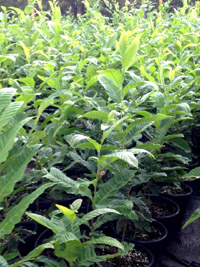 Lucas Farms began operation in June 1990. Our original intention was for a "gentleman's ranch," complete with a cow calf beef operation and hay production. In 2009, we began our search for alternative, sustainable agriculture. Our first effort was to establish a fruit orchard complete with apple, peach, pear, jujube, and many other fruit trees.
As we searched for a nut tree, we realized our soil composition was not compatible with the Oklahoma state tree, pecan. Also, we sought a species that produced nuts much quicker and did so annually. Finally, we looked for a species with an established market, under-served by domestic growers.
After visiting other chestnut orchards throughout the United States and China, we established a nursery in Oklahoma and began evaluating 80 Chinese chestnut cultivars. We found that many could not succeed due to our unique soil and weather conditions. Our efforts have yielded five varieties which are successfully growing at our chestnut orchards, located in Oklahoma and Tennessee. Since then, Chinese chestnut trees propagated in Oklahoma are being grown throughout the USA: in the Southwest, Northeast, and Southeast.
Whether you are looking for the highest quality chestnuts for consumption, desire a few trees in your front yard, or wish to establish a chestnut orchard to meet local consumer needs, we want to hear from you.
Riverview Chestnuts
46920 East 241st South
Porter, OK 74454
405-780-0389
Texas
Tri Reyes Realty
107 Hawthorne Circle
Bastrop, TX 78602
512-775-7812
Evans Farms
13921 CR 4192D
Henderson, TX 75654
903-646-5336
Midwest
Illinois
Chestnut Ridge of Pike County
18483 US Hwy 54
Rockport, IL 62370
217-437-4281
Thistle Creek Orchard
35 Shady Ln.
Avon, IL 61415
309-678-7216
Green Glades Chestnuts
10396 E. 1000th St.
Macomb, IL 61455
309-255-6189
Atlas Nuts
18521 US Hwy 54
Rockport, IL 62370
516-641-4513
Tony Bauer
8432 St. Leos Road
Ruma, IL 62278
618-967-8963
Oakland Acres
20526 Ferndale Lane
Vermont, IL 61484
309-254-3724
Wasbash Valley Chestnuts
1253 N 2040th Street
Flat Rock, IL 62427
217-412-6470
Bill Davison
3 Lateer Drive
Normal, IL 61761
309-824-0705
Beth Adler
1216 Lake Shore Dr N
Barrington, IL 60010
224-209-3176
Rut and Strut Acres LLC
17007 Locust Creek Road
Nashville, IL 62263
618.531.1042
Daniel Borries
1032 Knox road 1900E
Williamsfield, IL 61489
309-712-9494
The Morton Arboretum
4100 Illinois Route 53
Lisle, IL 60532
612-308-3221
Lassig Farms
11882 Sayers Lane
Browning, IL 62624
630-921-9060
Iowa
Valley Chestnuts
18335 Irish Ridge Road, Sperry, IA 52650
valleychestnuts.com | valleychestnuts@gmail.com | 319-759-4202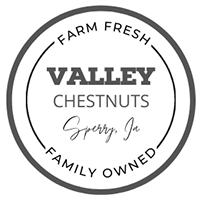 Three generations reside on our family-owned and operated chestnut farm in a secluded valley of SE Iowa. In an agricultural state best known for its corn and soybeans, we've discovered a crop that's even better matched to our loamy soil, broken-up patches of land, and narrow valley roads not suitable for large equipment: The Chestnut.

Chestnuts afford us the privilege of doing something we love in a place we love: cultivating family relationships as we establish and nurture a valuable crop. As we work to steward our land and revive rich chestnut traditions in America, we're gratefully establishing traditions of our own.

As a family, we're committed to excellence and are pleased to provide quality products that reflect our high standards and values. To learn more about our operation and products, please visit our website. We look forward to sharing our chestnuts with you!
Prairie Grove Chestnut Growers
19417 120th St.
Columbus Jct., IA 52738
563-260-6333

Cherry Glen Farm
3989 NW 94th Avenue
Polk City, IA 50226
515-450-1207
Cedar Valley Chestnuts
1804 North Dodge Street
Iowa City, IA 52245
319-321-2256
Mill Creek Farms
1212 State Street
Bellevue, IA 52031
213-399-5586
East Holbrook Chestnut Grove
3151 F52 Trail
Parnell, IA 52325
319-936-0112
Kansas
Chestnut Charlie's Organic Nuts
PO Box 1166, Lawrence, KS 66044
chestnutcharlie.com | chestnutcharlie@gmail.com | 785-841-8505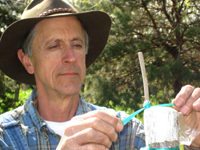 As a trial project, Charlie NovoGradac started planting chestnut trees in 1995 on old farm ground north of Lawrence, Kansas. Inspired by J. Russell Smith's Tree Crops, a Permanent Agriculture, Charlie believes that tree crops can help heal the planet, reduce erosion and capture atmospheric carbon while sustainably producing healthy food.

In 25 years we have learned that the Chinese chestnut species and Chinese-American hybrid trees thrive better in our soil and climate. Charlie is always taking notes, rating cultivars for quality and production, removing inferior trees and grafting or top-working others with named cultivars and our own superior selections. The orchard now has about 1200 chestnut trees on 20 acres.

We hire local people to gather chestnuts by hand daily through September and October. Chestnuts are float-tested, inspected, sorted for size, and refrigerated promptly as they fall in order to maintain the highest quality. Our area remains chestnut weevil free, helped by our clean-harvest practices. In season, Chestnut Charlie's sells fresh chestnuts by mail and also thru local and regional health food stores. We are certified organic. Our customers, including people from the "old country" who grew up eating chestnuts, praise our easy-peeling, high-quality, sweet chestnuts.
Michigan
Nash Nurseries
4975 Grand River Rd.
Owosso, MI 48867
517-719-7216
New Era Chestnuts LLC
4555 Windswept Drive
Milford, MI 48380
810-923-2954
DeKleine Orchards, LLC
1887 32nd Ave.
Hudsonville, MI 49426
616-896-8453
Winkel Chestnut Farm & Nursery
6485 Pierce Street
Allendale, MI 49401
616-895-1332
Grandview
2957 8th Avenue
Hudsonville, MI 49426
616-821-1536
Vicary Road Chestnut Farm
146 Vicary Road
Leslie, MI 49251
517-589-5755
Pole Bean Gardens LLC
423 Marion Avenue
Big Rapids, MI 49307
231-349-5568
Lee Peck
9912 6 1/2 Mile Road
Ceresco, MI 49033
269-979-5668
Minnesota
Kraig Wurst
27547 CR 28
Plainview, MN 55964
507-273-6174
Missouri
Fadler Farm
513 Miles Ave., Centralia, MO 65240
missourichestnuts.com | bfadler@centurytel.net | 573-682-4356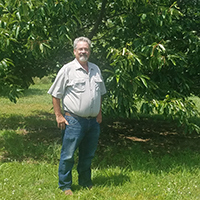 Brent and Valorie Fadler started their chestnut farm in 2005, with their two sons, Parker and Matthew. It is Located in beautiful Chariton County, Missouri.
Our chestnuts are large, sweet, and delicious. We have used the expertise of the University of Missouri Agroforestry Department to apply the latest and most environmentally friendly practices in growing our Chinese chestnut orchard. The chestnuts are gathered and sorted by hand so they look as beautiful as they taste. Our chestnuts have been selected to make Schlafly Chestnut Beer, prepared in upscale fine dining establishments to make delectable meals, and have been sold in local grocery stores. Our internet sales can make your family traditions and your holidays extra special knowing that the chestnuts are fresh from our farm to your front door.
Bramon Farms
413 E. Promenade St.
Mexico, MO 65265
573-253-0523
Cedar Hill Farm
31229 Mt. Olive Rd.
Napton, MO 65340
660-886-3185
Chestnut Ridge Farms of Ste. Genevieve, MO
18358 Kreitler Rd.
St. Genevieve, MO 63670
314-724-9267
CR Chestnuts
408 NW110 Street
Silva, MO 63964
314-374-4563
Greg and Melinda Heindselman
23502 Juniper Avenue
Lewiston, MO 63452
660-341-5692
Papa Shrubs Nursery
873 NW 825 Road
Centerview, MO 64019
816-739-1038
Pinnacle Creek Farms
28465 Pinnacle Lake Rd
New Florence, MO 63363
636-544-8819
Shifley's Nut Farm
8780 N Reams Road
Centralia, MO 65240
573-990-9204
Route A Chestnuts
351 NW 75th Street
Spickard, MO 64679
660-635-0585
Solar Crossing Farm
9768 County Road 445
Mokane, MO 65059
319-621-0509
Woodland Orchard
5159 County Road 254
Palmyra, MO 63461
573-795-3722
Ohio
Greg Miller - Empire Chestnut Co.
3276 Empire Rd. SW, Carrolton, OH 44615
empirechestnut.com | empirechestnut@gmail.com | 330-627-3181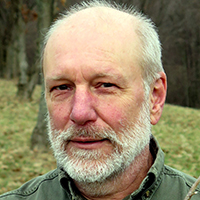 I have been a full-time chestnut grower since 1984. At that time, my father's chestnut-growing hobby had gotten out of control and it became my business. He had planted his first chestnut trees in 1957. Chestnuts do well on our well-drained hilltops of Appalachian Ohio. Since the 1980s, I have evaluated thousands of chestnut seedlings and cultivars representing all species of Castanea, including both pure species and hybrids. In terms of nut quality and adaptation, I've found that the Chinese chestnut is the best species for us. In the early 1990s, my neighbors planted thousands of Chinese chestnut seedlings over about 50 acres. The production from these trees combined with production from my trees was the basis for forming a chestnut marketing cooperative, Route 9 Cooperative, in 2010 (www.route9cooperative.com). The cooperative now sells both culinary chestnuts and my chestnut nursery stock. Visit us online.
Kienzle Farms
3675 Perron Rd. SE
Carrolton, OH 44615
330-575-2095
Southern Ohio Chestnut Company LLC
10099 Sand Ridge Road
Millfield, OH 45761
859-801-3137
Nut N Horse Farm
6475 Refugee Rd SW
Etna, OH 43062
614-218-4529
Majestic Canopy Chestnut Farm
12400 Yankee Street
Bellville, OH 44813
419-494-7311
Northeast
Maryland
SilvoCulture
10017 Baltimore National Pike
Myersville, MD 21773
301-418-8248
Massachusetts
Big River Chestnuts
195 River Road
Sunderland, MA 01375
413-658-7048
New York
Finger Lakes Nut Farm
5287 Booth Hill Road
Locke, NY 13092
315-466-9714
Pennsylvania
The American Chestnut Foundation
206 Forest Resources Lab
University Park, PA 16803
814-404-6013
Castanea Farms LLC
37 Lamm Road
Robesonia, PA 19551
610-914-5047
Spring Hollow Nursery
546 Captain Bloom Road
Sunbury, PA 17801
570-847-6912
Washington Crossing Orchard
1245 River Road
Washington Crossing, PA 18977
267-968-0895
Third Day Farms
5668 Schochary Road
New Tripoli, PA 18066
484-661-6105
Vermont
Perfect Circle Farm
1170 Airport Road
Berline, VT 05641
802-522-2312
Propagate PBC
168 Mill Street
Jeffersonville, VT 05464
207-899-9330
Southeast
Alabama
Chelsea Farms
16700 Hwy 280 #324
Chelsea, AL 35043
205-907-8845
Arkansas
Chestnuts in the Ozarks
12302 Ward Lane
Omaha, AR 72662
479-685-4469
Florida
Chestnut Hill Nursery LLC
15105 NW 94th Avenue
Alachua, FL 32615
386-462-2820
J J & J Chestnut Farm
9315 NW 238th St.
Alachua, FL 32615
386-454-4335
Suwannee Valley Chestnuts
422 NW Charter Oak Glen
Lake City, FL 32055
386-623-6625
TLC Farms
3011 Trail Dairy Circle
North Fort Myers, FL 33917
239-567-2188
Louisiana
Matt & Tara Jeane
2361 Sugar Creek Road
Ruston, LA 71268
318-533-3370
Mississippi
Laurel Creek Farms
100 Laurel Creek Road
Petal, MS 39465
601-818-2532
North Carolina
Mountain Grown Chestnuts, LLC
205 Beelog Road, Burnsville, NC 28714
mgchestnuts.com | ron@mgchestnuts.com | 828-678-9342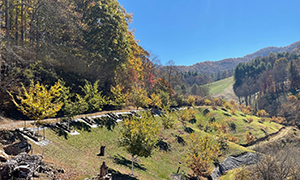 Yancey County is known as the most rugged and isolated of North Carolina mountain counties, containing several of the highest peaks in the Eastern U.S. What has been lost through the years is that Yancey was also once known for its extensive American chestnut forests. A 1925 survey estimated that 30-50% of county forest was American chestnut, noting the best stands occurred between 2,500' and 4,500' elevation. With most of the county in this range, the climate, soil and terrain made it well suited for these trees to prosper. This is where scientist Ron Fritz has started this small orchard of Dunstan chestnuts. On a steep northwest-facing slope at 2,600'+ elevation, irrigated by the plentiful artesian well water, Ron is emulating the sought-after Appalachian delicacy prevalent here pre-blight; focused on catering to fine restaurants, breweries, hotels, chefs, and discerning consumers.
High Rock Farm
960 High Rock Road
Gibsonville, NC 27249
919-308-4924
Pleasant Grove Farm LLC
1101 S Franklin Drive
Sanford, NC 27330
919-740-9895
Rock County Chestnuts
7518 US 158
Reidsville, NC 27320
336-253-8519
South Carolina
Twin Chimney Farm LLC
PO Box 278
Moore, SC 29369
864-909-1035
Shealy Company LLC
2862 Skippers Lodge Road
Cross Hill, SC 29332
803-260-6502
O Boy Farm
705 Cedar Grove Road
Clover, SC 29710
609-354-8429
Georgia
Nuthouse Farm, Inc.
210 E. Lane Street, Brooklet, GA 30415
nuthousefarms.com | info@nuthousefarms.com | 912-682-7248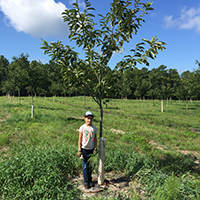 In late 2013, Rose Torielli decided to retire from Ford Motor Company and start a chestnut farm. With her investment and her sister Donna McKenna's "sweat equity", Nuthouse Farm, Inc. was born in Newington, Georgia. We had grown up eating chestnuts every fall and missed them here in the South where most chestnuts are imported and then stored incorrectly in grocery stores so they are dry or spoiled when you eat them. We wanted to help bring chestnut production back to America and join the growing number of farmers who have discovered this wonderful nutritious nut. We even have a little family history with chestnuts. Our great-aunt, Italia, had a chestnut orchard back in Italy, where our family is from. Donna's many grandchildren chip in to help. Now, our trees have begun bearing nuts so we can begin to share them with chestnut lovers everywhere. We will keep everyone posted when they are available. Check out our website and Facebook posts for the latest information!
Robert Hamilton
2282 Cloverdale Dr
Atlanta, GA 30316
404-432-9369
Georgia Chestnuts LLC
PO Box 340
Social Circle, GA 30025
404-444-5535
David Bacastow
4740 Barnett Shoals Road
Athens, GA 30605
706-202-2325
Boyd-Witherspoon Family Farm
4973 Chewdorth Drive
Stone Mountain, GA 30087
404-821-5810
Tennessee
Steve and Jean Lucas
1203 Williams Hollow Road
Pulaski, TN 38478
405-328-0186
Ridge Creek Chestnut Farm
550 Kelly Road
Dyersburg, TN 38024
731-676-8415
Alec Higgins
7 Gibbs Circle
Carthage, TN 37030
615-715-1307
Kentucky
Heritage Chestnut Farm
1865 Busby Station Road
Robards, KY 42452
859-630-7419
Mountain Gentry LLC
2333 State Highway 1025
Olive Hill, KY 41164
606-547-8090
United Chestnuts
100 Lone Hill Road
Falls of Rough, KY 40119
270-449-1150
Virginia
Rocky Creek Chestnut Farm
2300 Bryan Park Ave.
Richmond, VA 23228
804-357-1137
East Rockingham Chestnuts
13079 Model Rd.
Elkton, VA 22827
540-298-1349
West Virginia
Mountain State Chestnuts
PO Box 217, Davis, WV 26260
mountainstatechestnuts.com | dskines@gmail.com | 304-259-4821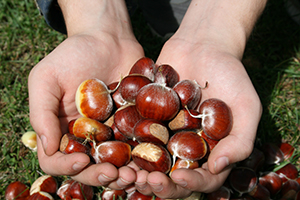 Mountain State Chestnuts had its start in 1986 in response to an article in the National Wildlife magazine, 'Is This The Chestnut's Last Stand?' It told the story of the American chestnut tree and current efforts to save it. Our initial efforts focused on following the backcross breeding program utilized by the American Chestnut Foundation to produce American chestnut trees with high levels of resistance to chestnut blight.

While this is still a goal we are working towards, we have noticed that when using certain American trees as parents, we have produced hybrids that have sufficient levels of resistance to blight with outstanding traits. Some of these hybrids exhibit vigorous growth with timber form, while others are orchard type trees that produce excellent nuts. We hope to eventually transition part of our orchards to 'nut production' with some of our better hybrids. We encourage people to check out our website to see what's going on at Mountain State Chestnuts.